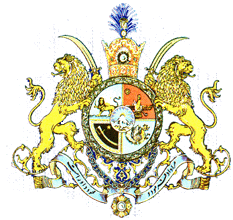 OIL
Oil was first discovered in cornmercial quantities in 1908, and a British Company (Anglo- Persian Oil Company subsequently known as Anglo-Iranian Oil Company and later as British Petroleum Company) was formed to develop oil resources in a large area of south Iran under a 60-year concession, and to build a refinery on Abadan island, close to the head of the Persian Gulf.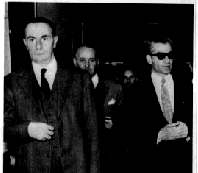 In 1933 Reza Shah succeeded in forcing Anglo-Iranian to improve the terms of the original concession. After World War II, in which Iranian oil had played an important role in the Allied victory, a further revision became necessary. When during negotiations with the company failed, Iran nationalized the oil industry and subsequently the National Iranian Oil Company (NIOC), the first national oil company in the Middle East, was established in 1951 during the tenure of Prime Minister Mossadegh. Later on in the sixties, photo left, the Shah of Iran and Italian tycoon Enrico Mattei, risked the combined wrath of the major international oils companies when they signed a highly advantageous agreement for Iran ..
In 1954 a new agreement was signed between the Government of Iran and NIOC, on one hand, and a consortium of British, Dutch, American and French Companies, on the other. Under this agreement, two operating companies were formed, one to explore for and produce oil and natural gas, and the other to refine part of this oil at Abadan Refinery on behalf of NIOC.
The original agreement area was about 254,112 sq.kms. In Decemberj 1966, a supplemental agreement was signed by which the area was reduced by 25 per cent.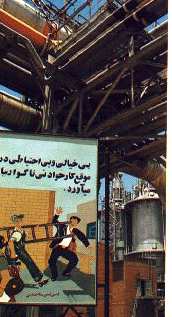 As a result of successful negotiation with the members of the consortium a new sales and purchase agreement was signed in July, 1973, which mad ethe 1954 agreement null and void Thus the consortium became a long-term purchaser of Iranian oil. However following this change the Oil Service Company of Iran (Private) was formed to carry out the operations assigned to it by National Iranian Oil Company This agreement brought about a total transformation and Iran became the first country to obtain the ownership of and control over its oil resources. Photo left, The Abadan Oil Refinery in 1978.
Crude oil production in Iran rose steadily from some 11.7 million barrels in 1954 to 1,953 million barrels in 1975. Iran became the fourth largest producer in the world after the ex-USSR, U.S.A. and Saudi Arabia.
Exports of Iranian crude oil have also steadily picked up, from 11.7 million barrels in 1954 to 1,825 million barrels in 1975, making Iran the second biggest exporter of crude oil in the world after Saudi Arabia.
The rapid growth in both production and exports involved a phenomenal expansion and modernization programme. The number of producing oilfields increased from five in 1954 to 28 in 1975. Production and export facilities expanded at Kharg Island, some 23 miles off the mainland, and was linked by a series of pipelines to the oilfields. It become the world's largest oil loading terminal. In 1972 an artificial sea island, Azar Pad, capable of handling tankers up to 500,000 tons, wa completed in deeper waters off Kharg
Abadan Refinery, for long the largest in the world, was modernized to produce higher quality products. The project to increase capacity to 600,000 b/d was being implemented. When cornpleted, Abadan was to become the world's largest export refinery.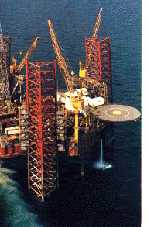 To meet the rapidly growing needs of the domestic market for oil products, NIOC had built several refineries and was continuing to do so at a rapid pace. Tehran Refinery, which was commissioned in 1968 with an initial capacity of 58,000 b/d, was expanded to 125,000 b/d - A second refinery, adjacent to the existing one, was put on stream in March, 1975, with a capacity of 100.00 b/d. NIOC also operated a refinery in Kermanshah with a capacity fo 15,000 b/d and two near Shiraz Tabriz with a capacity of 40,000 b/d. Work was also completed on the construction of a new 80,000 b/d refinery in Tabriz, and a 200,000 b/d refinery in Esfahan was started. Photo left, an Iranian Platform in the Persian Gulf.
The National Iranian Oil Company, besides operating the Naft-e Shah field, conducted its own exploration activities and has been successful in discovering oil and gas in several parts of the country. The company also handled the domestic distribution of all oil products through an extensive distribution network as well as distribution in some countries abroad.
Furthering NIOC's growth six new agreements were concluded with foreign companies in 1974. These agreements, known as "exploration and development agreements", differed from the former contract-type agreements in that the contractor was not entitled to receive oil at privileged or unreasonably low rates such as tax-paid cost. Instead, after exploration was completed, NIOC took over all commercial fields and the contractor were be entitled to purchase up to 50 per cent of total production at discounts of three to five per cent.
In order to expand its international activities, the National Iranian Oil Company continued to enlarge the scope of its existing joint venture projects as well as evaluating proposals for new overseas participation. NIOC was participating on a joint venture basis in refineries and related activities in India, South Africa, South Korea and Senegal. Meanwhile, negotiations were continuing with European, American an Asian firms regarding possible new joint ventures in Iran and abroad.
Aside from overseas refining and marketing activities, NIOC also concluded an agreement with the British Petroleum Company to explore in two blocks of the North Sea, where the existence of oil and gas reserves had been proven. An agreement was also concluded with several firms for exploration in offshore areas of Greenland.
Iran's oil revenues in 1975 were $18,600 million, up from $4,400 million in 1973. Much of this increase came from higher oil prices negotiated in 1972-73. The effects of the 1973 agreement which made Iran the full owner-operator of its oil industry was also significant.
The new arrangement gave Iran and NIOC complete control over the exploration of its oil resources, production and export. One result of this was that NIOC became the second largest industrial corporation outside the U.S.A. and the eighth largest company in the world.
It was the Shah's desire that NIOC should become increasingly involved in downstream oil operations internationally. In addition to the joint ventures already mentioned this has led to NIOC's entry into the tanker business. The National Iranian Tanker Company (NITC), an NIOC subsidiary, acquired five tankers of up to 57,000 d.w.t. and two VLCC's in the 230,000 d.w.t. class, with more vessels to be acquired.
As a further step towards diversifing its international operations NITC also entered into a joint venture with the British Petroleum Company on a 50-50 basis to establish and operate a joint tanker fleet.
During the Pahlavi Era, and in its rathe short existence, NIOC came a very long way towards achieving its goal of becoming one of the largest oil companies in the world, and ensuring that Iranians would enjoy the maximum benefits from their most important natural resource.